Make people happy with Sake
Sake Sales Business
(kakuzen)
We are committed to expanding the wonderfulness of Sake to the world. Sake makes people happy and it even attracts those who drink it for the first time. The love of Sake brewers makes it possible.
We strongly hope that more people realize how excellent Sake is and it will be loved by people all over the world for a long time. In order to make it happen, we will advocate it to young generations and people in the world. Therefore, we will always be innovative and challenge new things. With such our mission, we named our brand Kakuzen.
Sake is a drink made by steaming white rice, adding koji and water, and then fermenting and maturing it.
It is also used as a seasoning for cooking.
Alcohol is said to be the best of all medicines, and it is said to be very good for your health if you drink in moderation.
There are many different types of sake produced throughout Japan, and each region has its own unique local sake products in circulation.
The difference between "Sake" and "Shochu"
The difference between "Sake" and "Shochu"
The clearest difference between sake and shochu is the way how they are made. When classified by production method, sake falls into the category of "brewed sake" and shochu into the category of "distilled sake".
So, what is the difference between "brewed" and "distilled" alcohol?
A "brewed wine" is an alcoholic fermentation of grains and fruits with the help of yeast.
Alcoholic beverages are made by alcoholic fermentation of the sugar extracted from the raw materials. For example, wine is a liquor made by alcoholic fermentation of the sugar in the grapes, the raw material. Sake is a bit unique because the rice, the raw material, does not contain any sugar, so the starch is saccharified before the alcoholic fermentation proceeds.
A "distilled liquor" is a brewed liquor that has been "distilled".
"Distillation is the process of cooling the gas created by evaporating a liquid so that it can be turned back into a liquid again. The difference in the temperature at which it evaporates is what allows us to get the pure liquid out.
Brewed alcohol is a mixture of water and alcohol, so as you raise the temperature, the lower temperature alcohol that evaporates will evaporate first. In other words, distilling the brew makes the alcohol even purer.
WE DEAL WITH MANY RESTAURANTS
We sell our sake to restaurants and bars mainly in Ikebukuro, Ueno, Akabane and Shibashi in Tokyo, Japan.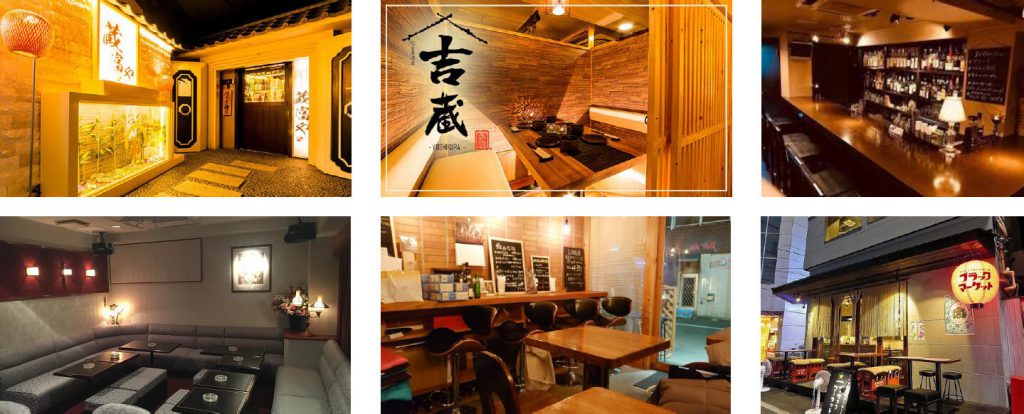 We expand Sake to the world
In the world, more and more sake brewers are making their own sake in their own countries. There are already more than 50 sake breweries around the world, including the United States, Canada, France and Spain, where locals are using local rice to make sake with the aim of pairing it with local cuisine. They genuinely love sake and that's why they started making it.
The amount of exports from Japan to overseas is increasing year by year, but in some countries, the amount of local production is nearly twice as large. What they are looking for is sake that matches the local climate and cuisine of the country, in other words, local unique sake. For this reason, we continue to take on new challenges by thinking of sake pairings that go well with French and Italian sake, which are uncommon in Japan, and introducing them to local restaurants in the world.
Sake available in Kakuzen
路上有花 桃花
Kotsuzumi Rojoh-Hana-Ari Tohka
・Sake Brewery: Nishiyama Brewery Co., Ltd.
・Capacity: 720 ml
・Alcohol: 15.5%
・Rice: Hyogo Kitanishiki
・Polishing ratio: 50%
・Sake Meter Value: ±0
小鼓 青陽
Kotsuzumi Seiyou
・Sake Brewery: Nishiyama Brewery Co., Ltd.
・Capacity: 720 ml
・Alcohol: 17%
・Rice: Gohyakumangoku
・Polishing ratio: 50%
・Sake Meter Value: +3
COWBOY YAMAHAI
・Sake Brewery: Shiokawa Brewery Co., Ltd.
・Capacity: 720 ml
・Alcohol: 18.5%
・Rice: Niigata rice
・Polishing ratio: 60%
・Sake Meter Value: +3.5
願人 山廃純米生酒
Negaibito
・Sake Brewery: Shiokawa Brewery Co., Ltd.
・Capacity: 720 ml
・Alcohol: 17%
・Rice:-
・Polishing ratio: 70%
・Sake Meter Value: -4.8
FONIA SORRA
・Sake Brewery: WAKAZE Co., Ltd.
・Capacity: 500 ml
・Alcohol: 13%
・Rice: Dewa sansan
・Polishing ratio: 60%
・Sake Meter Value: -8
FONIA tea ORIENTAL
・Sake Brewery: WAKAZE Co., Ltd.
・Capacity: 500 ml
・Alcohol: 13%
・Rice: Dewa sansan
・Polishing ratio: 70% koji rice, 70% stake rice
・Sake Meter Value: ±0
C'est la vie
(セラヴィ)
・Sake Brewery: WAKAZE Co., Ltd.
・Capacity: 750ml
・Alcohol: 15%
・Rice: French rice
・Polishing ratio: 95%
・Sake Meter Value: -9
C'est la vie Petite
(セラヴィ プティット)
・Sake Brewery: WAKAZE Co., Ltd.
・Capacity: 750ml
・Alcohol: 11%
・Rice: French rice
・Polishing ratio: 95%
・Sake Meter Value:-
YK3 Canada 純米
・Sake Brewery: WAKAZE FRANCE SARL
・Capacity: 750ml
・Alcohol: 14%
・Rice:-
・Polishing ratio: 70%
・Sake Meter Value:-
YK3 Canada 純米にごり
・Sake Brewery: WAKAZE FRANCE SARL
・Capacity: 750ml
・Alcohol: 14%
・Rice:-
・Polishing ratio: 70%
・Sake Meter Value:-
全黒 雫搾り純米吟醸
ZENKURO Drip Pressed Shizuku Shibori Junmai Ginjo
・Sake Brewery: New Zealand Sake Brewers Limited
・Capacity: 750ml
・Alcohol: 13%
・Rice: Gohyakumangoku
・Polishing ratio: 60%
・Sake Meter Value:-
全黒 ふな搾りスリーピングジャイアント特別純米
ZENKURO Funashibori Sleeping Giant Tokubetsu Junmai
・Sake Brewery: New Zealand Sake Brewers Limited
・Capacity: 750ml
・Alcohol: 15%
・Rice: Gohyakumangoku
・Polishing ratio: 60%
・Sake Meter Value:-